Maintaining an XML specification with ODD can be useful outside the TEI realm. First, an ODD specification allows for a smoother maintenance and evolution of an XML vocabulary, but it is also a great help to document project-specific customizations and practices.
A recent and fully documented use case is the EAD specification and and its customization for the EHRI project. This use case has been described in two publications : Romary, L. & Riondet, C. Arch Sci (2018) 18: 165. https://doi.org/10.1007/s10502-018-9290-y, and Romary, L. & Riondet, C. Umanistica Digitale (2019) 4: Data Sharing, Holocaust Documentation and the Digital Humanities: Best Practices, Case Studies and Benefits. https://doi.org/10.6092/issn.2532-8816/9046
This work has shown the efficiency that can be gained by the use of ODD specifications for low-constrained vocabularies.
The official EAD schema and the official EAD tag library were encoded as an ODD document (with the agreement of the Library of Congress and the Society of American Archivists), in the context of the Parthenos project. This EAD ODD is a starting point for EHRI, and was used to create an EHRI-specific EAD profile with very precise content-oriented rules, based on EHRI requirements and on the data models of the collection holding institution. ODD also allows for the creation of qualitative documentation to be served to the user of conversion and validation services provided by the EHRI project.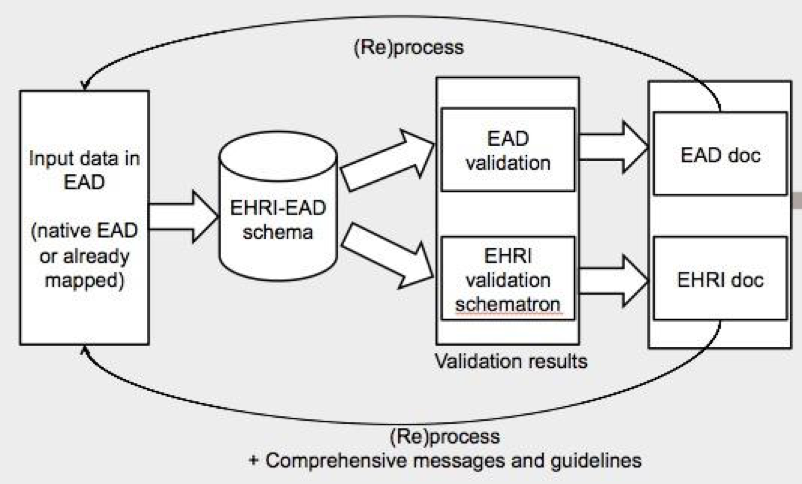 In EHRI, the EAD specification in ODD inherits everything from the generic EAD ODD except when a more specific behaviour is required by the project. However, the philosophy is to keep the EAD schema as it is. Instead, we use another validation language: ISO Schematron, an  ISO/IEC Standard (ISO/IEC 19757-3:2016) that parses XML documents and makes "assertions about the presence or absence of patterns". It can be used in conjunction with a large number of grammar languages such as DTD, RELAX NG, etc.
---